Here you are at the Captian's quarters! Make sure you dont touch anything, cause if you break it, you bought it! This is a page filled with links to great pages on the 'net that have anything to do with the public safety profession.
If you have a page that is related to fire, medical or police, PLEASE send me a mail giving me the address and I'll gladly add you to the page! Have fun and happy surfing!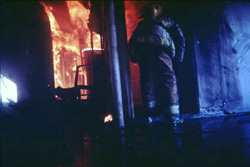 In The Line Of Duty®
A Real-Life Hero - In The Line of Fire
Early February 8, 1997, Officer James Ibbotson was on duty at the station when he was alerted to a residential fire by a passerby. Upon arriving at the two-story residence, Ibbotson initially thought he could put out the blaze himself. He brought a fire extinguisher from his car, but abandoned the idea when he saw how the fire had engulfed the front of the house. That's when he knew he had to alert the residents.
Ibbotson was operating on instinct as he ran inside the burning home. When he found the sleeping family upstairs, he quickly realized the gravity of the situation. As he led the residents down the stairs, he could no longer see the first floor through the blinding smoke, which had enveloped the whole house. "Time was running out," Ibbotson said, "because the fire was moving too fast." Seconds later, Ibbotson and the family emerged from the house safely.
The family, along with a teenage friend (and the family's dog and two cats), escaped serious harm, thanks to Ibbotson's quick thinking and heroic effort. Ibbotson was treated for smoke inhalation. As local firefighters worked for three hours to extinguish the blaze, it was clear that the family owed their lives to him. Ibbotson was later recognized by state and local authorities for his heroism. But his comments afterward said it all: "This is what the job is all about, helping people. Becoming a police officer has been my lifelong ambition and I am glad I was there to do my job!"
Officer James J. Ibbotson
Kingston Township
Police Department
Kingston Township, Pennsylvania




---
The first page, that is top 'o the line, and supplies Cyberpsycho's Fire Station with a majority of pictures it the Hyattsvile Fire and Rescue Department. This is not only one of the best pages for fire and rescue, but just one of the best pages I've ever seen on the net. It updates at least once a day, some times more. It has live dispatch audio, TONS of pictures, info and great articles. This is definatley a MUST SEE!






---


Second on the list is Fire Fighting-Dot-Com. This is also a top 'o the line page that deals with every aspect of the profession. It has great links to business, catalogs, and important information. The online store is great, and the whole page layout helps to bump this page to the top of the list!



---


Third on the list is Galls Inc. On-line catalog. I personally have a subscription to this catalog, and have ordered numerous items from it. The prices are low, and ordering on-line makes it oh so much easier to get what you need at a great price. Check this site out, and see what you can get for either you police, fire, or medical needs. Oh and check out the Tee shirts, some of them are really cool!



---


Next is the Burke Volunteer Fire and Rescue Homepage. This is the company that I work for, and while it isn't a great page, it does have a lot of helpful information, and a few scattered pictures.



---


Code 3 is a company that makes collectible die-cast and plastic fire engines, ambulances, and police cars. Chances are, if you were ever a little kid, you had some sort of Code 3 toy. This is a great site, which has tons of pictures of the products, and of course, an online ordering spot. I personally own a whole fleet of these things, from engines to rescue squads, and even a Hummer/Hum-Vee brush truck. Check this site out for some great fun.




---


Yet another site is the home page of Our Designs. This is a great magazine which I currently subscribe to, that has everything from badges to water bottles. Check it out!




---


Tims Fireball of Links is yet another GREAT links site for everything from fire company pages, to pages such as Cyberpsycho's Fire House. We are proud to have a link on this great site, and i strongly suggest you check this page out for many other interesting pages all over the world.


---


The Fairdealing & Olive Fire web site is a great place to finish the Captians Quarters off with. From prayers and poems to a GREAT engineers' page (all about nozzels, pumps, hydrants and pretty much everything else that has to do with water) this site is definatley a great site to check out. And make sure to check here often to look for their on-line bookstore in the near future, I sure will!
Link suggested by Samantha Walker of the Fairdealing & Olive Fire Dept. Do you have a link you want to see on Cyberpsycho's page? mail me and let me know! You may see your page up here next!



---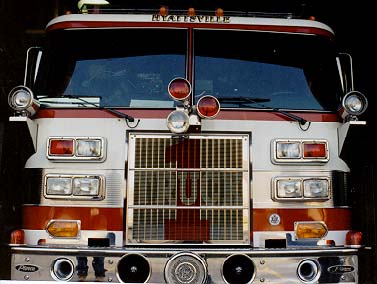 ---




Last updated 3/13/99 at 8:38 p.m.







Main Page | The Engine Bay | The Ready Room
The Picture Index | The Captian's Quarters | Cyberpsycho | Poems and Stories